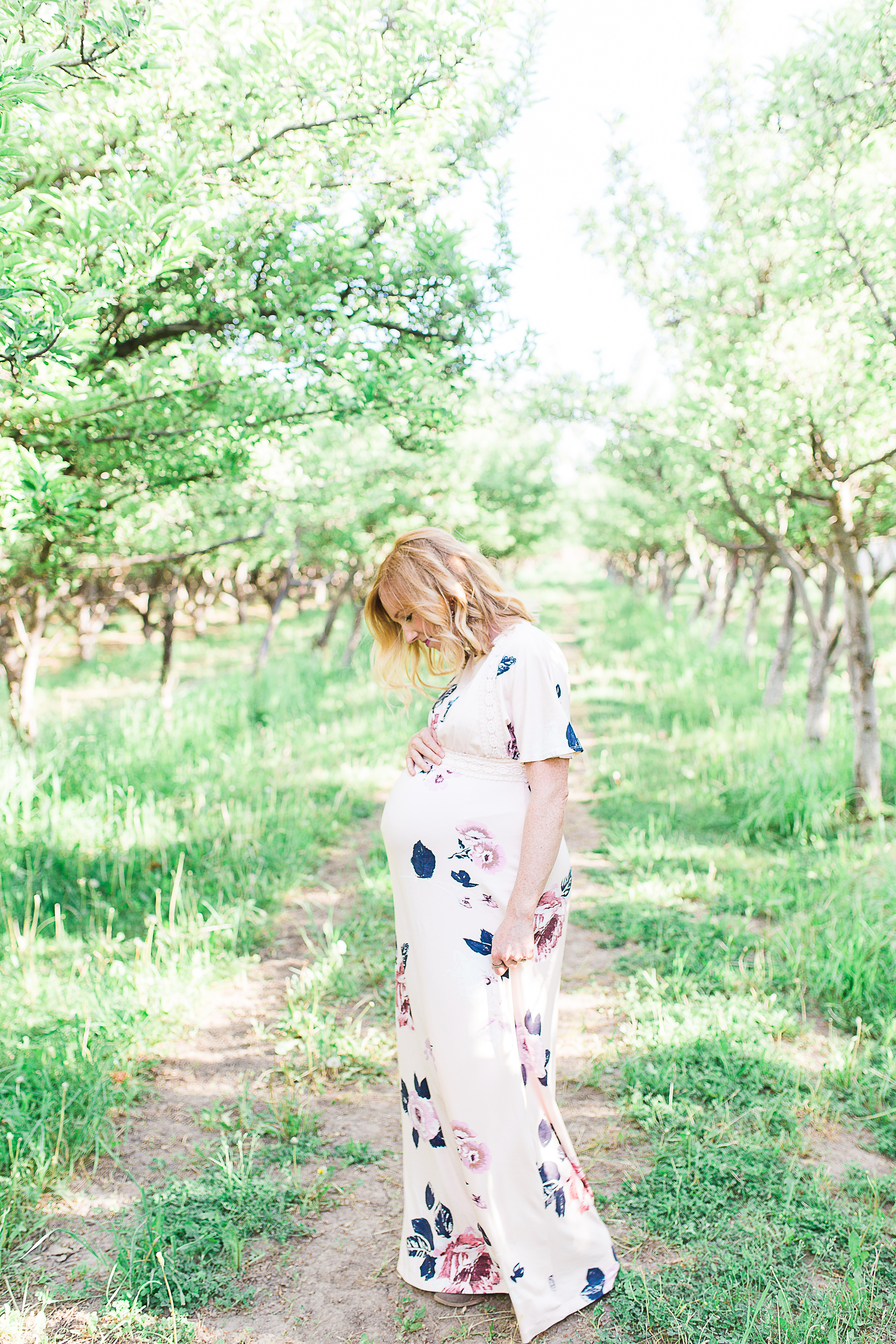 Provo Orchard Maternity Session
You know those people that you meet and instantly like? Andrea was totally that kind of person. She was just the sweetest and so fun to be around.
We shot her maternity portrait session in the Provo, UT orchard. The weather was surprisingly warm that night. I was worried that we'd be super hot, but shooting in the orchard kept us nice and cool.
The Provo Orchard is a photographer's dream. It's just the prettiest place and so easy to get to. My favorite part of shooting in the orchard is that I also see a group of 4 or 5 deer. They just wander through the orchard and are so fun to see. I really need to start bringing carrots to my sessions. Maybe I could get one to sneak into a picture sometime. That would just be the best. Ha.
Maternity Session Outfits
Andrea chose the prettiest dress for her maternity portrait session. I always recommend wearing long, flowy dresses for maternity sessions. The length of the dresses elongates your appearance, which is really flattering for your cute bump and the flow allows us to do poses that include motion, which are always beautiful on camera. Andrea got her dress at ASOS
As a maternity photographer, I'm used to posing women, but Andrea didn't need much direction from me. She posed beautifully and I just kind of took pictures and hung out 😉
Utah Maternity Portrait Session
A lot of women decide not to take maternity pictures. They decide that because they don't like the way they look at the moment that they'll just forego the maternity session and just be in the pictures once the baby is born. I did the same thing and now I completely regret it. I wish I had a session celebrating the amazing thing my body was doing – growing a whole other human. It might not seem like a huge decision, but I totally suggest doing a maternity portrait session. Even if you don't love the way you look 9 months pregnant, just do it. I promise, once your sweet baby is born, you won't regret it.