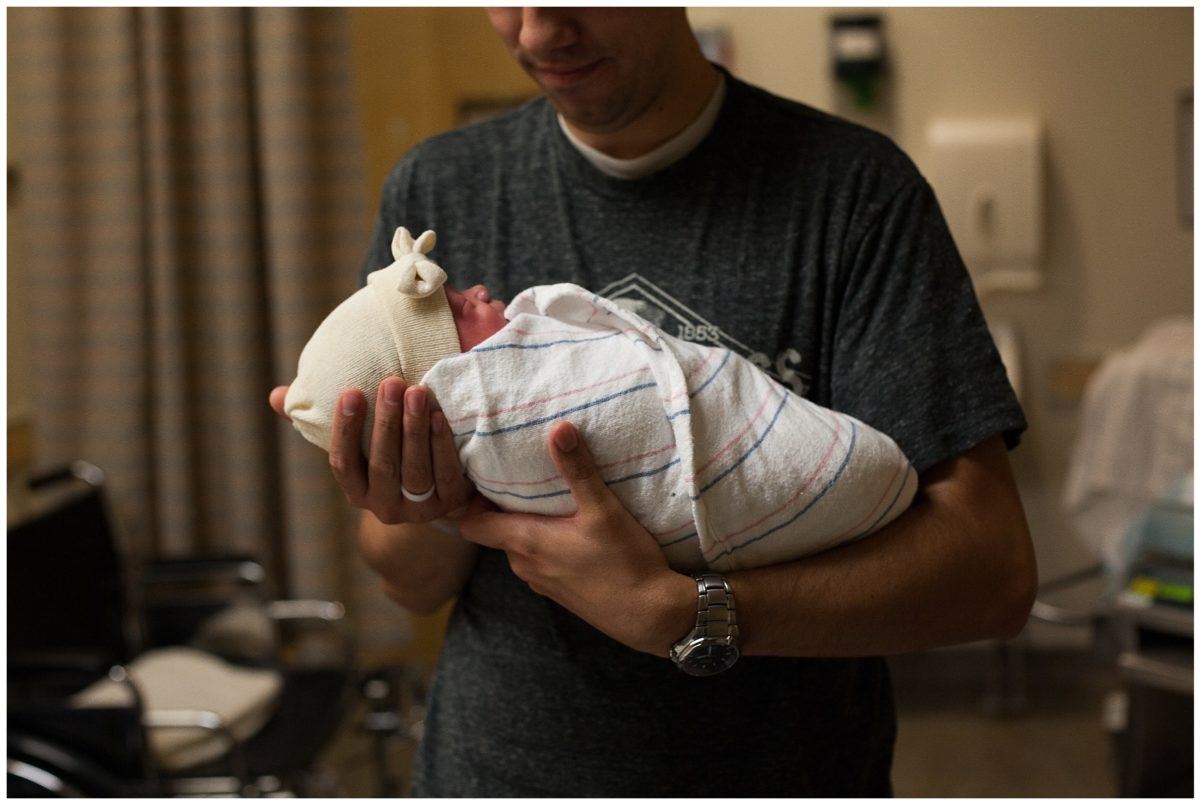 One of my favorite things to do when I'm pregnant is to read birth stories. I think, because I am SO sick durning pregnancy, reading birth stories helps me to remember that it's all worth it. All the throwing up and sickness is worth it. Especially towards the end of my pregnancy I found myself reading birth stories often (probably in hopes to induce my labor). On September 8th our second child, Lu Lu was born. Lu Lu isn't actually her name, it's her nickname, but you know, the internet is full of weirdos, so that's what I'll call her here.
We had planned to be induced on September 2nd, but a couple weeks prior to that date my OB told us we couldn't be induced that day because it was Labor Day weekend (boo). The next date we could be induced was September 7th. I was SO bummed, but decided 5 extra days wouldn't kill me and, in the mean time, I would try everything possible to induce myself anyways.
I literally tried everything except for castro oil (that just makes me too nervous). I tried running, walking on a curb, spicy food, pineapple, primrose oil, bouncing on a ball, and sooo much more. NOTHING worked. I was pretty convinced I would be pregnant forever.
At my 38 week appointment I was dilated to a 2 and 90% effaced. My doctor honestly didn't think I'd make it another week. I was given instructions to call on September 6th at 2pm to get my induction time for the next day. All day I anxiously waited, hoping to get a super early time. At 2pm I called labor and delivery to get my time. I waited patiently as she looked through her notes and then, the calm nurse told me, "I'm so sorry, but I actually don't have you on the induction schedule for tomorrow, and we're totally full. Our next induction opening will be on September 11th." Instantly I started bawling. I just wanted to be done being pregnant and have my sweet baby here. She told me to contact my OB and see if there was anything he could arrange, but likely it wouldn't be until the next Tuesday.
I called my OB's office immediately, still bawling. I talked to his nurse and she told me they would call labor and delivery and try to work something out. Meanwhile, my husband (who probably didn't want to have a pregnant wife any longer) decided to drive to my OB's office to see if he could work something out. About 20 minutes later he told me to come in so that my OB would strip my membranes and check me. I rushed over.
When my OB checked me I was now at a 3. He told me he would strip my membranes and was about 75% sure that would put me into labor over night. HOLY COW – he stripped my membranes. It was so painful. The contractions started about 2 hours later. Nothing big and strong, but consistent. I was so hopeful I would go in to labor that evening, but nothing. I woke up the next day (September 7th) still pregnant and not in active labor. I went back in to my OB's office at 9 to be striped again. My OB was stuck at the hospital so his midwife checked me and stripped me. I was now at a 4 and she suggested I go up to the hospital because I was far enough along that they would probably just admit me. She stripped my membranes again and told me to head up.
My husband was in a meeting near the hospital, so I decided to drive up and walk along the track until he got out of his meeting. I walked 3/4 of a mile and then he called me. I was still having contractions, but they just weren't super strong. We decided to go into labor and delivery to be checked in hopes of getting admitted.
When we got to labor and delivery they were slammed. They had one triage room left that they put me in. When they checked me I told them my OB/midwife had sent me up. I was still at a 4. They checked to see if my water had broken, but it hadn't. The sweet NP told me that they were just too full to take me right now and because I wasn't in super active labor they wouldn't admit me. I was crushed. Then, the charge nurse for labor and delivery came in and told us that as soon as they had room they would call us to be induced – even if it was 2am. I was so bummed, but grateful I was on the list to be called finally.
Cameron and I decided to eat lunch downtown since we were kidless and together. It was a fun little date. We ate at a cute and trendy mexican place downtown and then drove home. We picked up our son on the way home and then all laid down for naps together – exhausted from all the craziness of the day.
About an hour into our naps my husband's phone rang. He answered excitedly and then handed the phone to me. It was the charge nurse from labor and delivery. When I said hello she said, "do you want to come have a baby now?" I was SO stoked!
We dropped my son back off at my dad's and then drove downtown to the hospital again. We were both giddy the whole drive and so excited to meet our baby girl. We got parked and checked in to our room – everything felt so surreal. After being pregnant foreverrrrrr it was finally time to meet baby girl. The nurses came in and checked me and I was still at a 4. They suggested we eat dinner and then they would start the pitocin. We were lucky – it was steak and shrimp night at the hospital (what?) so Cameron and I enjoyed a lovely steak dinner and then, at 8pm they started the pitocin.
Contractions are a good kind of pain, but man, they are pain. I decided shortly after the pitocin started to request my epidural. Last time I had opted for another drug first and then upgraded to the epidural, but this time I wasn't messing around. Cameron held my hand as the anisteologist did his thing.  I'd squeeze cameron's hand when it got super painful and he'd squeeze mine back – like the game we've been playing since high school when we hold hands.
After my epidural, the residents came in to break my water. I believe I was at a 5 at this point. It took a few tries, but once it broke everything went quick.
My sweet nurse came to check me at about midnight and I was at a 6. My contractions were getting strong by this point, even through the epidural I could feel the pain. Baby was also feeling them. Each time I had a contraction her heart rate would dip. My RN and the residents started getting worried that maybe the cord was wrapped around her neck and that was causing the issues. They created a plan to help relieve some of the stress off of baby.
As all of this was happening I got incredibly nauseas. I'm talking, I thought I was going to throw up. My nurse brought me a smelly stick, sprite, and a vomit bag and I closed my eyes. The nausea was worse than I'd ever experienced. Then, I felt baby move down. It all happened so quick, but I told my nurse and the resident that I think I was ready to push and sure enough – I was complete. I had gone from a 6 to complete in 20 minutes. It was craziness.
Suddenly my room turned into a madhouse. They called my OB and he rushed over. Lights were turning on, people were coming in, everything was happening so fast. My job was just to try and hold baby in until my OB got in the room. I was SO excited when he got there and so ready to start pushing. We decided to do a test push so that the nurse and my doctor could talk me through things and see how I did.
Baby was ready to come out because she was born one push later.
She was the sweetest and tiniest little peanut. Cameron cut the cord and they placed her on my chest. Instantly my heart loved her and I was so grateful for her. She was born at 12:49am – less than 5 hours after the induction had started. It was the quickest labor and truly the sweetest night. We're so grateful for our sweet Lu Lu.
A HUGE thank you to my sweet friend, Desiree Bell for capturing these beautiful images for us.