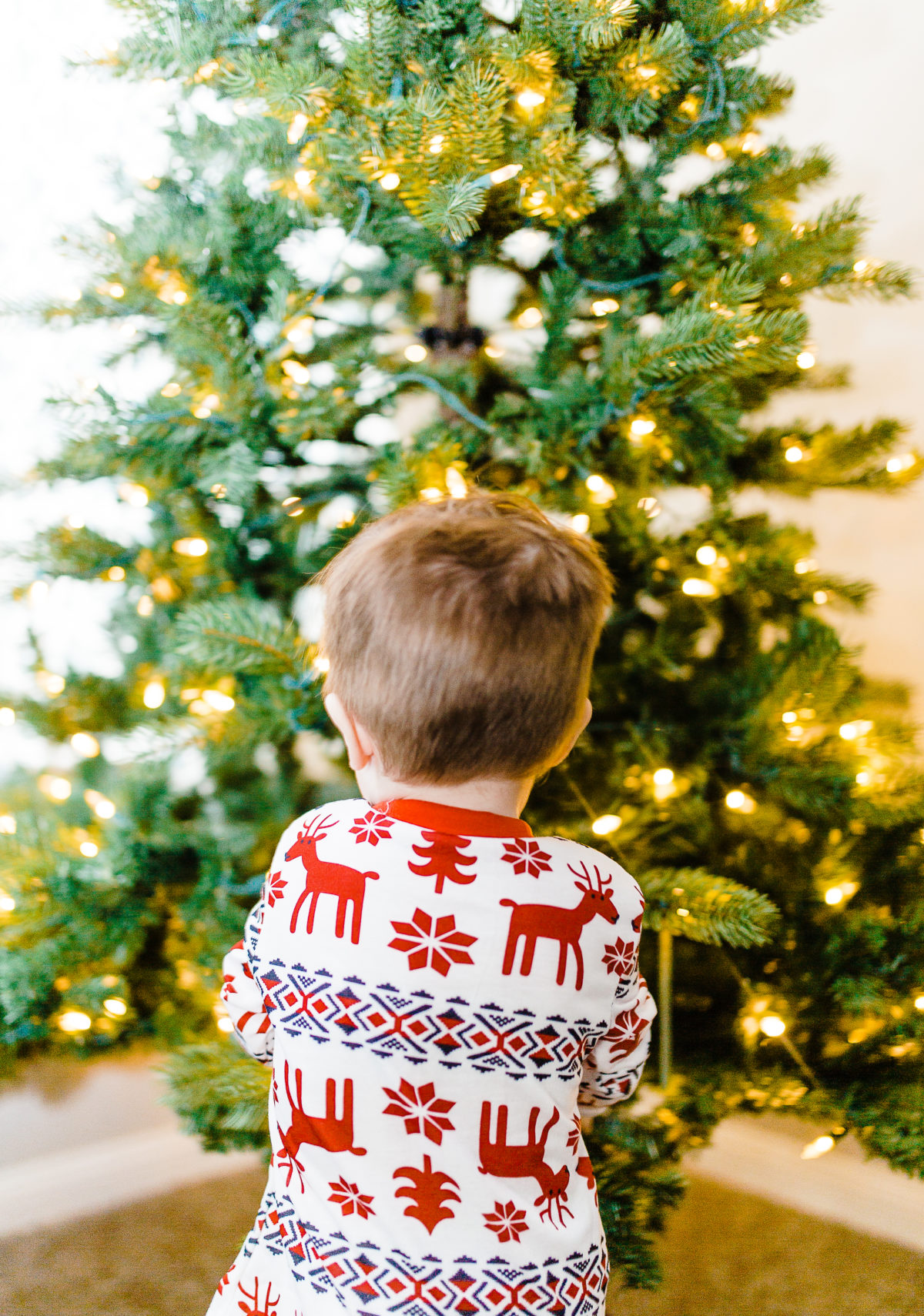 How to Blur Christmas Lights in Background | Utah Photographer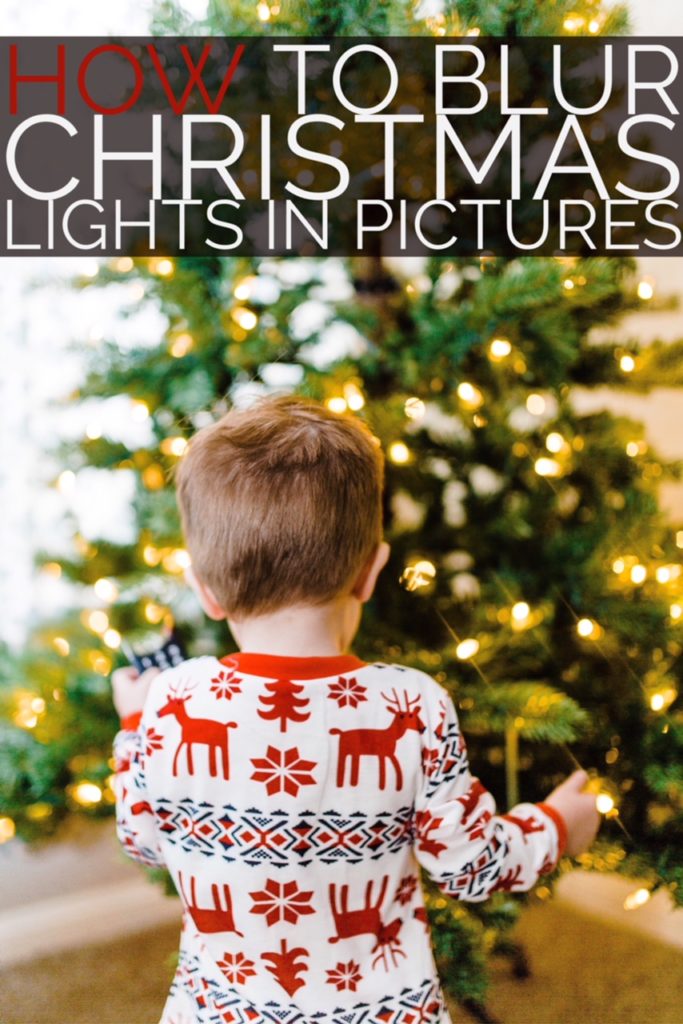 When I was learning to shoot in manual mode on my DSLR one of the first things I wanted to be able to do was to learn how to blur Christmas lights in background. I wanted to be able to get the neat bokeh and to actually know how to get it.
Back then, I played around until I could get something close to what I wanted. Now that I have a better idea of what I'm doing, I thought I'd create a tutorial for you that will walk you through the steps for how to blur Christmas lights in background.
This is a tutorial that will work either at night or durning the day. I chose to shoot durning the day to get brighter images.
You will need to be shooting in manual mode for this tutorial and be familar with the exposure triangle (ISO, aperture, and shutter speed).
The best tip to get different types of bokeh is to manually adjust your focus using your lens. Most lens can be adjusted manually. Simply dial the front of the lens to adjust the focus. Now, we'll come back to this in a moment.
I shot all of these images on a Canon 5d Mark iii and a 35mm. I would recommend a 35mm or a 50mm. You could probably use an 18-55mm just fine too (your aperture just won't be able to get as wide).
To start, manually adjust your settings for proper exposure. Try to keep your ISO under 500 to avoid excessive grain and try to keep your shutter speed in the double digits to avoid excessive blur. I would shoot with your aperture around 1.8 or 1.4 to get that yummy bokeh!
Once you have your exposure set, automatically adjust your focus on an item that is FURTHER away from you than your tree is. Then, point your camera back at the tree, the lights should be blurry now. Without re-focusing, take a few shots.
Once you have the base set, you can play around with the size of the bokeh by manually adjusting your lens focus.
All of these images were shot at:
ISO 250 f/1.4 1/60 
The difference in the size of the bokeh is merely the manual focus adjustments I made using my lens and my closeness to the tree.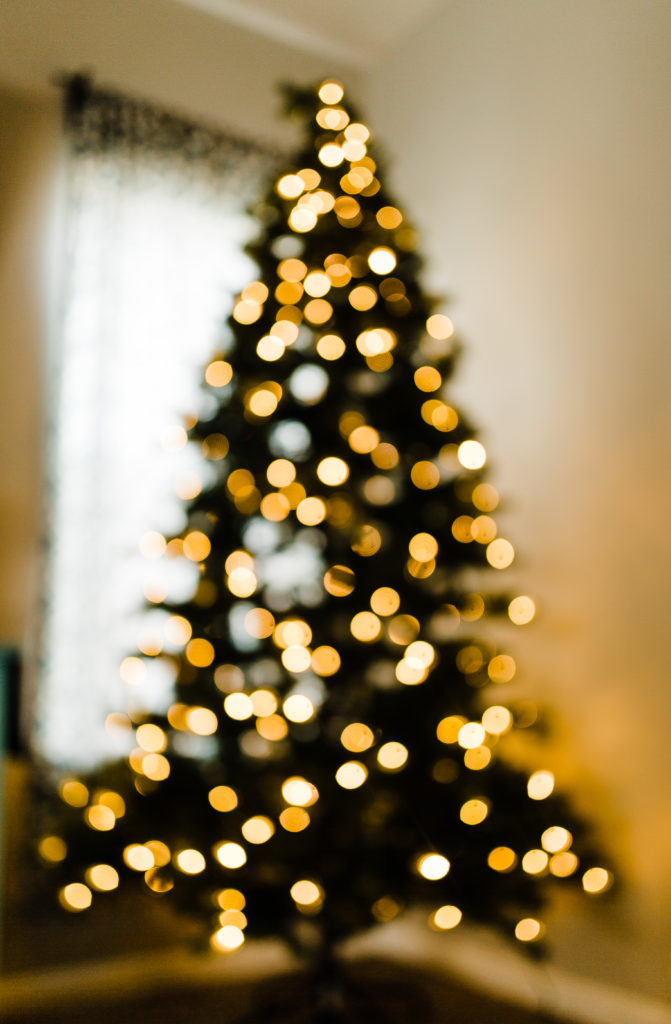 This is a little too in focus for me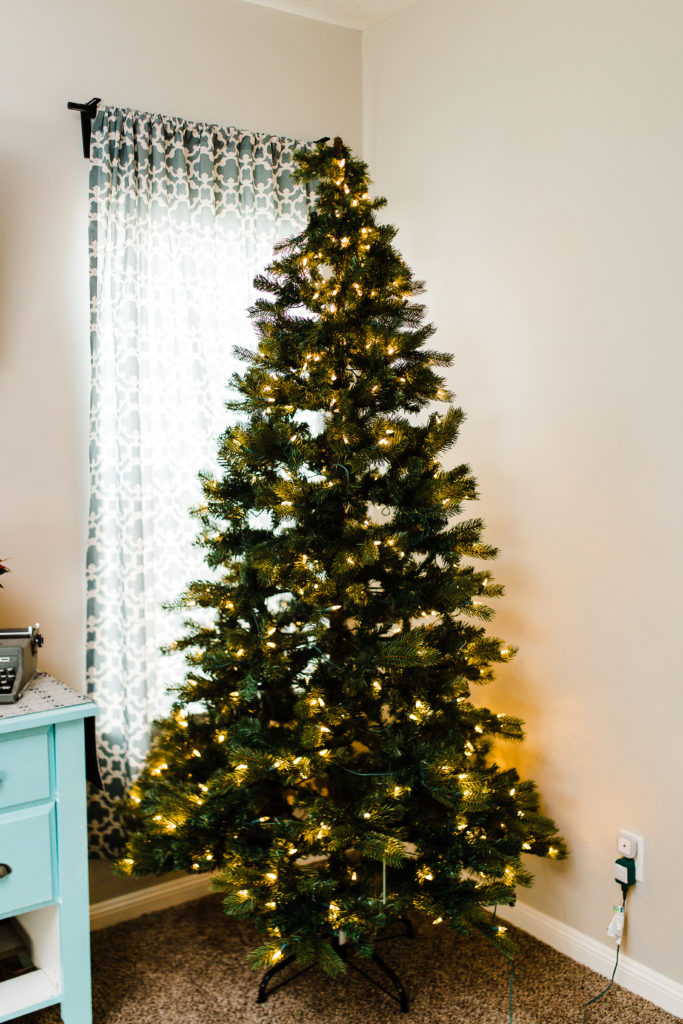 This is my favorite shot and favorite size bokeh. I think this is the perfect combination of out of focus and color.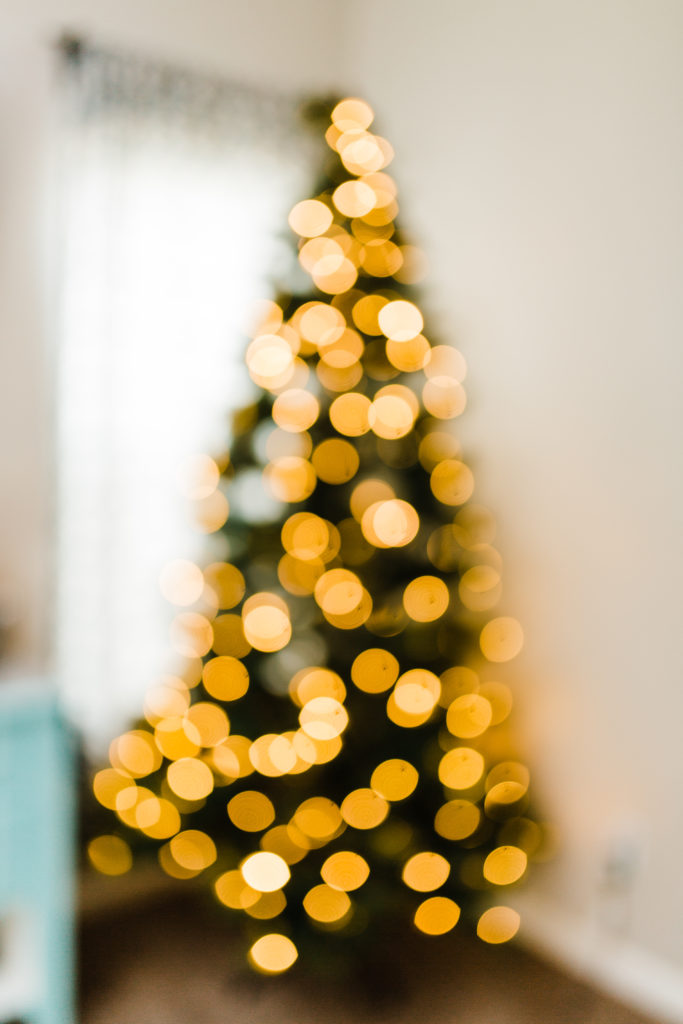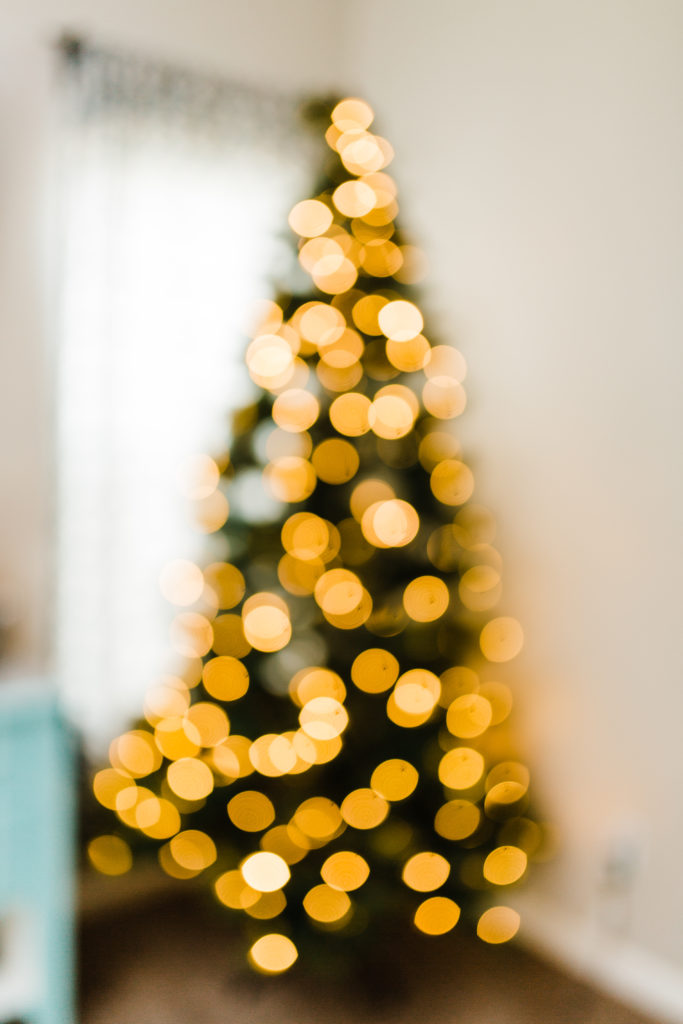 WOAH, this is a little too out of focus for me.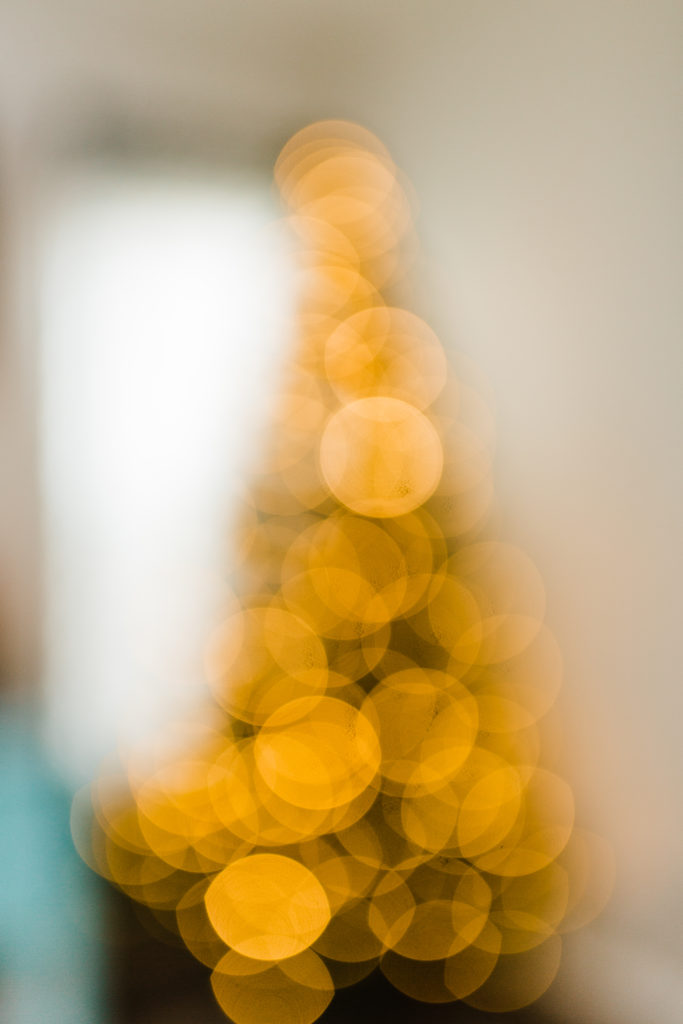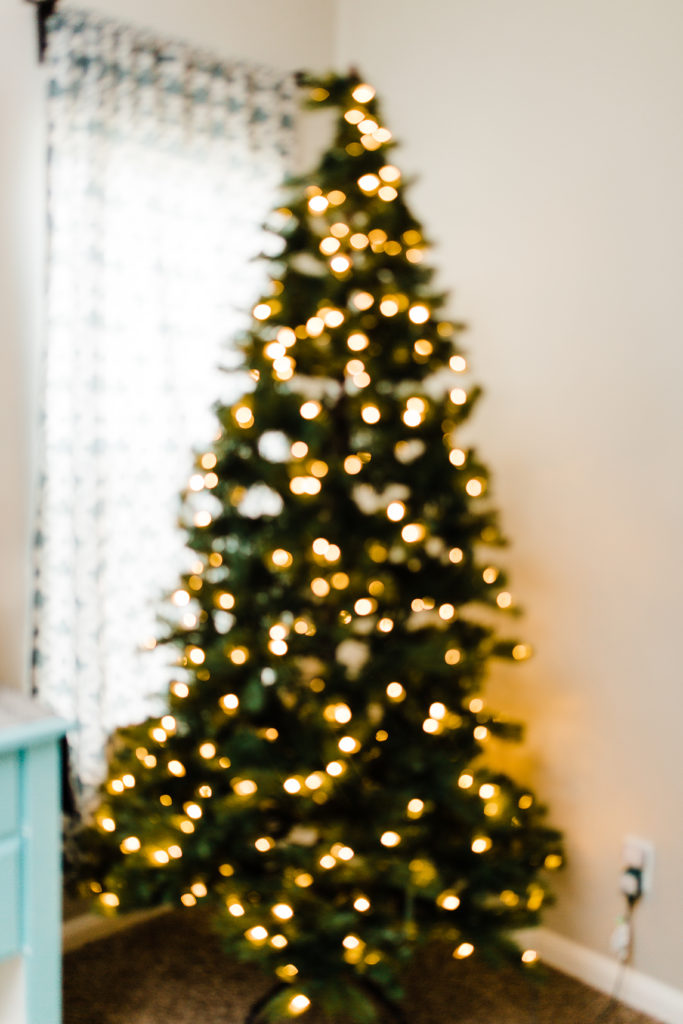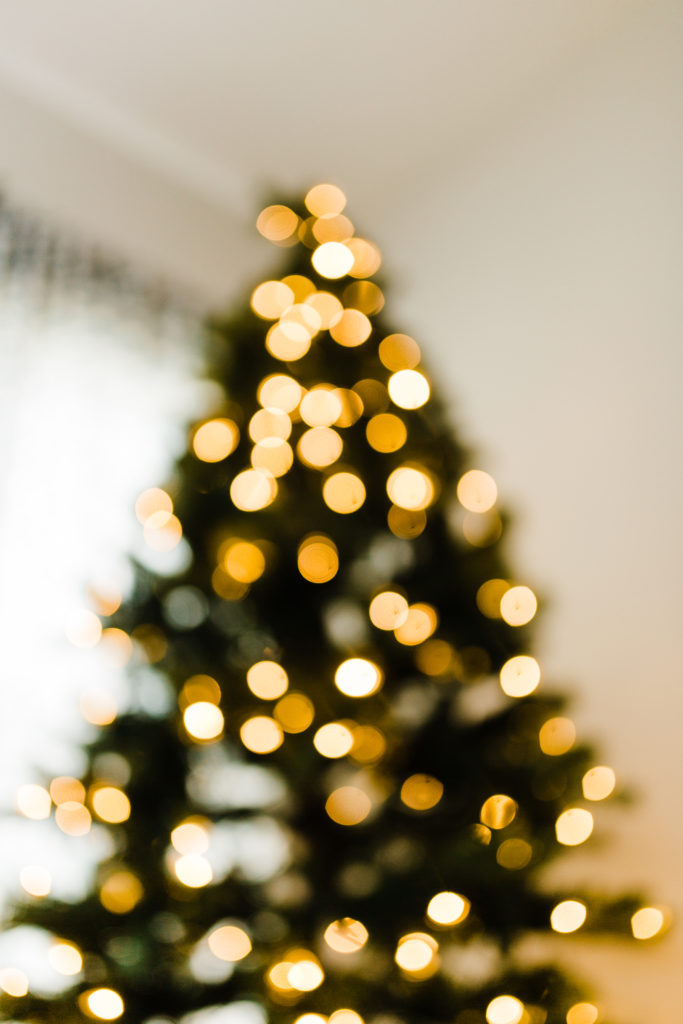 For this image, I used the same settings but bounced my external flash to the ceiling to get a whiter background. If you are interested in purchasing an external flash, here are some I recommend:
Nikon:
Neewer TT560 Flash Speedlite for Canon Nikon Panasonic Olympus Pentax and Other DSLR Cameras,Digital Cameras with Standard Hot Shoe
Neewer 750II TTL Flash Speedlite with LCD Display for Nikon D7200 D7100 D7000 D5500 D5300 D5200 D5100 D5000 D3300 D3200 D3100 D3000 D700 D600 D500 D90 D80 D70 D60 D50 and Other Nikon DSLR Cameras
Canon:
Neewer TT560 Flash Speedlite for Canon Nikon Panasonic Olympus Pentax and Other DSLR Cameras,Digital Cameras with Standard Hot Shoe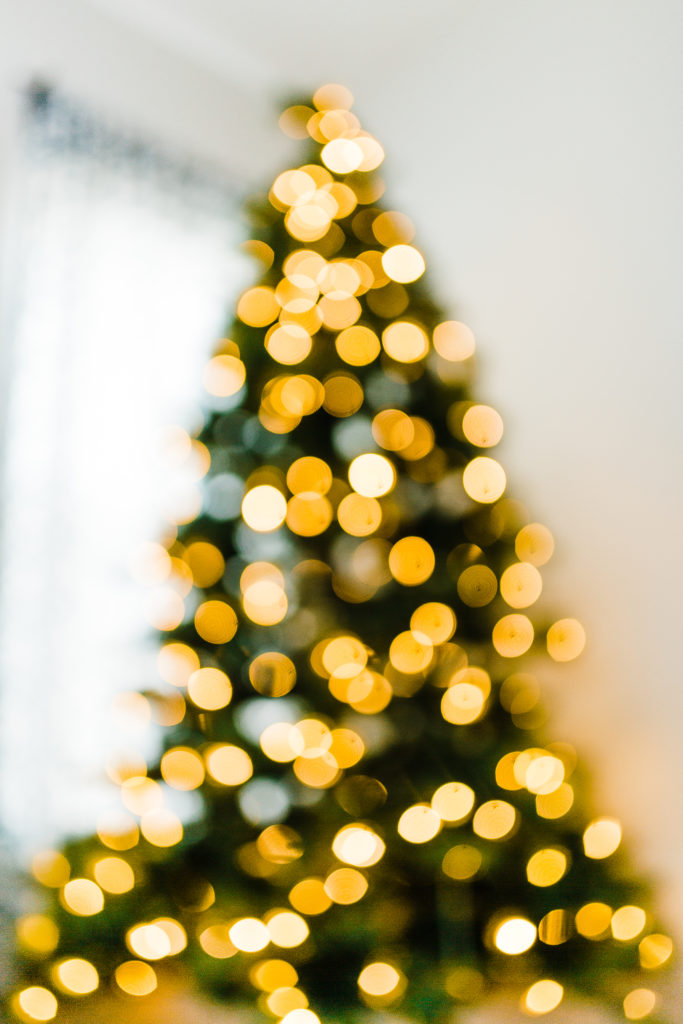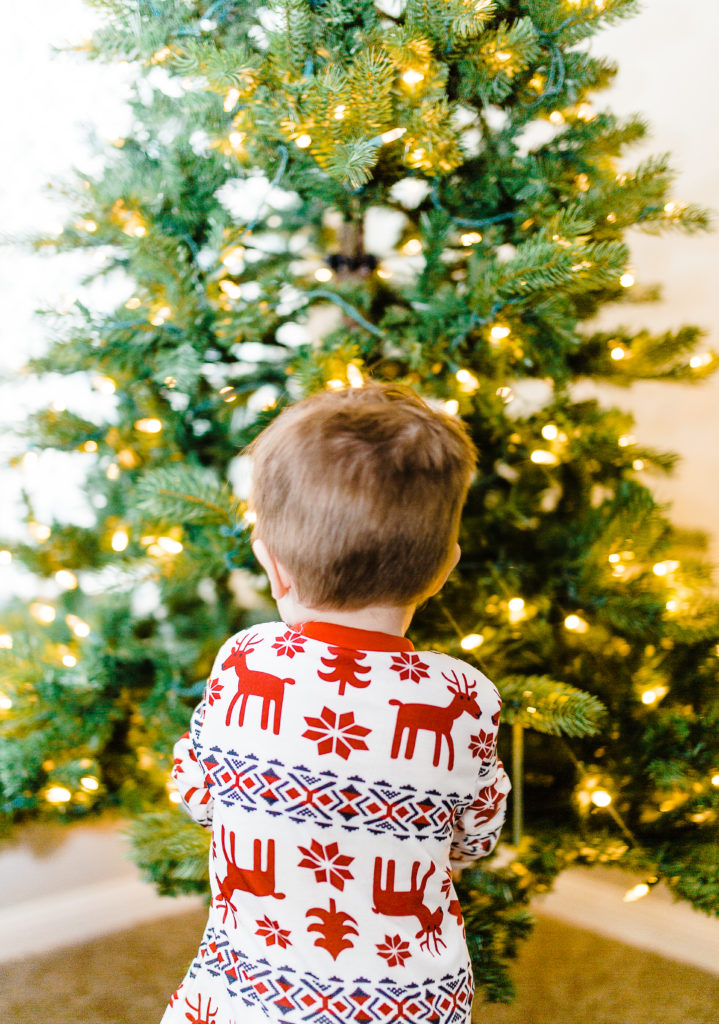 If you're interested, here is the gear I used to shoot this image and recommend for you:
50 mm
Canon
Canon EF 50mm f/1.8 STM Lens
Nikon
Nikon AF-S FX NIKKOR 50mm f/1.8G Lens with Auto Focus for Nikon DSLR Cameras
35mm
Canon
Nikon
Canon 5D Mark iii
I'd love to work withy you! Please contact me to book a session. To view more of my portfolio, follow me on Instagram.